Label Marking
Flexible Marking and Cutting of Labels
When direct laser marking of the workpiece is not applicable label marking will be used.
Just-in-Time-Marking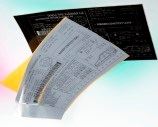 Within seconds, the laser marks specially developed labels just-in-time with alphanumeric text, serial numbers and barcodes. Marking contents and label shapes are freely programable. After laser marking, the labels are cut out without damaging the carrier foil (kiss-cutting). A main application is in the field of the automotive industry and their suppliers.
Features at a Glance
High speed
Alphanumeric text, graphics, bar and matrix codes
Marking and cutting in one step
Flexible database connection
For this application we recommend the laser marking machine : VISION EMBESOFT SOLUTION's LASER MARKING MACHINE