Welding Methods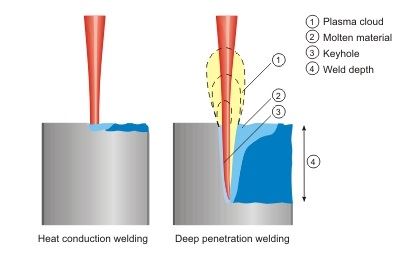 In laser welding one must distinguish between two main processes: heat conduction welding and deep penetration welding.
In heat conduction welding, the materials to be joined are melted by absorption of the laser beam at material surface – the solidified melt joins the materials. Welding penetration depths in this context are typically below 2 mm.
Deep penetration welding, which starts at energy densities of approx. 106 W per cm2, is based on the creation of a vapor capillary inside the material by local heating to the evaporation temperature. The resulting vapor pressure inside the material creates a capillary approx. 1.5 times the diameter of the focal spot of the laser beam, which is moved through the material by the device, following the contour to be welded. The hydrostatic pressure, the surface tension of the melt, and the vapor pressure inside the capillary reach an equilibrium, preventing the capillary (often referred to as the "keyhole") from collapsing. Multiple reflection inside the keyhole guides the incident laser beam deep into the material. Today, given sufficient laser power, weld depths of up to 25 mm (steel) can be achieved.
Steels and aluminum are classic materials for laser welding. Basically, however, all conventionally weldable materials also lend themselves to laserwelding, often at higher speeds and quality compared to traditional processes.
Compared to conventional welding methods, laser welding offers the diverse advantages:
No tool wear, contact-free processing
Diverse materials and different thicknesses are weldable
Easy conversion to automatic operation
High flexibility in terms of process and geometry
High welding speed
High welding seam quality, resulting in little need for rework steps
Low thermal material influences
Adjustable energy supply in relation to the materia
Highest reliability at maximum flexibility
Safe operation by proven beam guiding systems
Adjustment to customized requirements and local conditions by modular design of the machine
Simultaneous operation at different machines or different welding spots by beam deflectors or splitters
Optimized nozzle geometries for best application results
Availability of further options like quality monitoring or documentation of the process data