Laser Marking of Plastics
Color Change, Foaming or Engraving
Laser marking of polymers relies on carbonization or foaming processes caused by laser beam absorption.
Carbonization and Foaming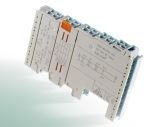 Carbonization (a thermochemical process) produces dark marks. Foaming, a partial degradation creating gas-bubbles with in the material, scatters the light and produces light marks. Additives can help improving absorption properties. Applicable laser sources are Nd: YAG-, Nd: Vanadate- or fiber lasers.
Photochemical Processes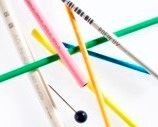 Harmonic wavelengths of 532 nm (green) and 355 nm (UV) can be used for bleaching and photo reduction processes. UV-induced photo reduction is often called "cold marking", as there is no noticeable heating of the material.
Plastics with Additives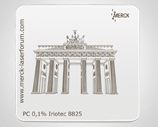 The use of laser-sensitive additives in plastics can generate considerable advantages. Additives in plastics are able to increase outline sharpness and contrast and thus boost readability of the marking contents e.g. of machine-readable codes. Used with transparent and semi-transparent materials, additives lead to a uniform contrast dispersal. Additives in plastics increase the diversity of product colors and are of crucial importance for the markability of certain materials.
Features at a Glance
No pre- and post-processing
Durable, high-contrast markings
Intact surfaces (color change)
Fast compared to mechanical marking techniques
Very small line widths realizable
Flexible, individualized marking content
Suitable for areas difficult to access
For this application we recommend the laser marking machine : VISION EMBESOFT SOLUTION's LASER MARKING MACHINE