Tube and Profile Welding
Optimal Welding of Tubes and Profiles with the Laser
Whether drinking water pipeline or hydroformed heat exchange stainless steel tubes, whether frame carriers or side impact protection in cars – every day thousands of kilometers of profiles or tubes are cut or welded with diverse beam qualities.
Compared to conventional WIG welds the laser welding of tubes and profiles allow clearly higher process speeds. The narrow laser seams feature low heat inputs, which arises amongst others in a small heat input zone, a low combustion behavior resp. a minimal decombustion of alloying elements. The fine-grained structure of the welding seam allows high deformation degrees even without the heat treatment that often is necessary during WIG welding.
Laser welding of tubes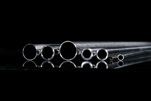 µm-accurate welding of tubes and profiles thanks to the high positioning accuracy of the laser beam even at high process speeds of up to 60m/min. Laser welded tubes withstands even very high stress levels.
Laser welding of profiles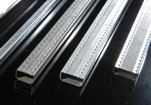 Beside tubes also profiles can be welded safe and solid with the laser. Such profile are used for example as a window spacer.